Canadian infrastructure turns to public bonds
Last Updated 23 Nov 2015 17:52
Tags
Transport
Social & Defence
North America
Canada has been able to tap different sources of funding as its infrastructure needs have developed in recent years. The emergence of large transport projects in the country's infrastructure pipeline has led to a rise in publically-listed bond financings, IJGlobal data reveals.
Canada has recorded a sharp increase in the number of infrastructure-related public bonds since the start of 2014, while there has just been one private placements relating to infrastructure projects in the country each year since 2013. While 2010 and 2011 witnessed heightened private placement activity, the trend has since reversed. The first half of 2015 witnessed only one private placement transaction compared to five public bond deals.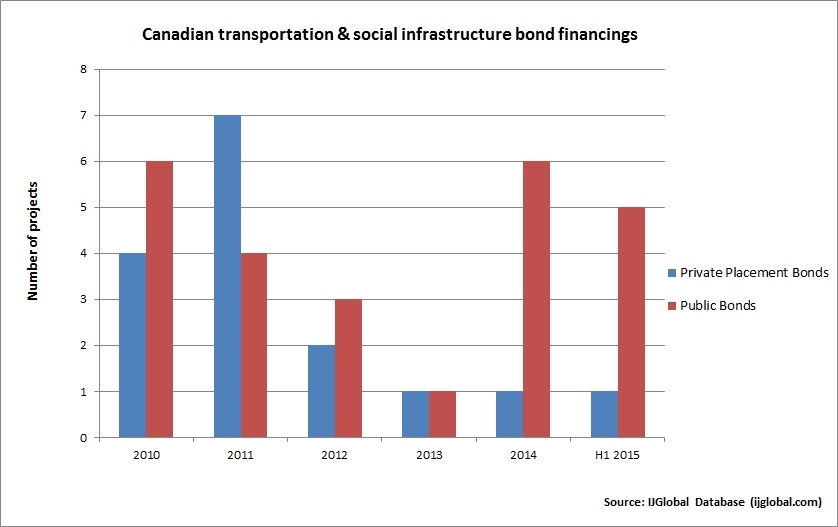 Canada's infrastructure pipeline has traditionally been dominated by hospital and courthouse PPPs, which require relatively modest capital expenditure and are suited to private placements. The country has been increasingly procuring transportation infrastructure (primarily light rail transit and highway PPPs) however, and transport projects need more investment.
The C$621.2 million ($466.1 million) Waterloo light rail transit PPP closed in 2014, followed by the C$5.3 billion Eglinton Crosstown LRT project in Toronto, Ontario and the C$4.24 billion St. Lawrence bridge PPP in Montréal, Québec that closed in 2015. All three transactions involved public bonds.
Public bonds by definition can attract more investors as they are made available on the open market, whereas private placements involve the sale of securities to a relatively small number of select investors. While Canadian institutional investors have displayed a fair appetite for privately placed bonds over the years, market observers say the size of the transaction dictates what kind of bond is used.
There will continue to remain a market for private placements, as more procurement moves from the provincial to local municipality level. Municipality-led projects tend to be smaller and better suited to private placement.
The next wave of infrastructure projects in Canada however includes big ticket deals such as Ontario's estimated C$1 billion Finch West light-rail transit (LRT) project which tendered earlier this year. The province is also planning to launch the similar-sized Hurontario LRT in 2016. In July 2015 the province issued a request for qualifications for the C$200-500 million Highway 427 expansion project.
The province of Alberta is also pursuing a large-scale transport PPP; the Southwest Calgary ring road. At the federal level, Canada launched a tender for the long-awaited Gordie Howe International Bridge PPP. These deals are all expected to feature public bonds.