IJGlobal Magazine – Spring 2021 Issue
Last Updated 28 Oct 2021 16:51
Tags
Oil & Gas
Renewables
Power
Transport
Social & Defence
Water
Telecoms
Mining
Europe
IJGlobal is delighted today to publish the spring edition of IJGlobal Magazine – including a Brexit report, an infra fund valuation report and shortlists from IJGlobal Awards 2020 – once again in digital format, due to the coronavirus pandemic.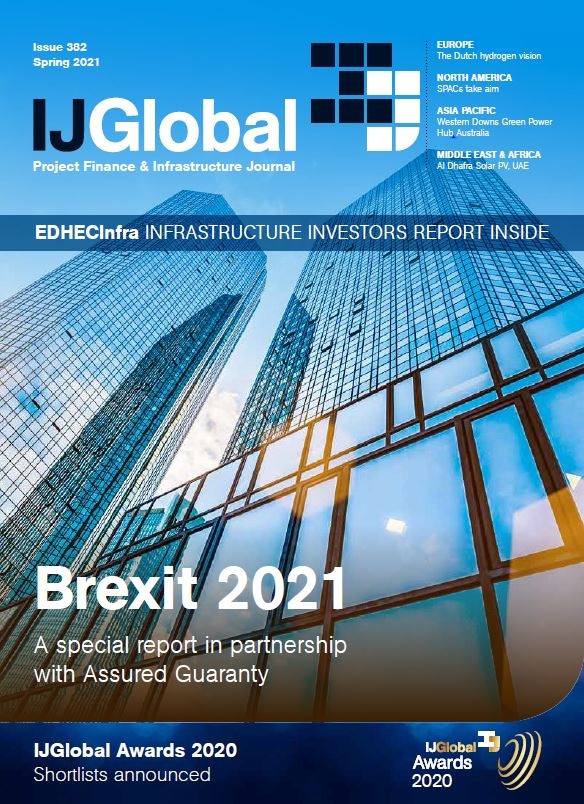 The magazine, which is normally posted to subscribers and handed out at conferences, is being sent out in digital format and (once again) is being made open access to allow for its proliferation around the market.
To download the magazine, click IJGlobal Magazine – Spring 2021 Issue
This quarter we have again turned the spotlight on the recruitment market with the first pages of the magazine dedicated to tracking people moves around the globe… which has been hugely active in spite of coronavirus.
A key section of the magazine has been devoted to regional shortlists for the Company prizes (as well as identifying our industry expert panels) for the IJGlobal Awards 2020 which will be judged next month (April 2021) with the winners revealed in the summer issue (out late June).
We are expecting a bumper year for our (virtual) awards as submissions are up by around 30% with many companies submitting for the first time, bucking the Covid trend thanks to a successful marketing campaign.
Of greatest interest to readers will be:
The Brexit Special Report 2021 – sponsored by Assured Guaranty
The next generation of data for infrastructure investors – sponsored by EDHECinfra
Both of these sections will be published later today as separate supplements