Taking US midstream & LNG to the next level
Last Updated 03 Jun 2019 15:53
Tags
Oil & Gas
North America
At the beginning of April (2019), President Donald Trump signed two executive orders (EO) to streamline federal processes concerning the development of LNG and midstream infrastructure. The first EO calls for updated regulations from the Department of Transportation in regards to modern LNG development, while also addressing regulatory and permitting hurdles for the financing of new facilities. The second EO states that decisions to issue or deny permits for certain cross-border projects will be made solely by the president.
Investments in midstream infrastructure grew from 2017 as developers needed to expand pipelines and create facilities after the surge of new oil and gas supply from upstream operations. The main issue they faced at the time was ageing transportation and gathering systems that failed to meet customer and business needs, both for domestic usage and for export.
As demonstrated by IJGlobal data, around $8.3 billion and $9.5 billion of project finance transactions closed in 2017 and 2018. However, as more and more pipelines emerge, midstream capacity is starting to exceed demand. Still, when it comes to midstream infrastructure, the US boasts an impressive pipeline – with transactions worth some $13 billion in the financing/pre-financing stages. However, some big interstate and cross-border infrastructure projects have stalled, due mostly to lengthy permitting processes coupled with legal disputes and financial uncertainties.
The $8 billion Keystone XL pipeline, brought back in 2017 after being cancelled by former president Barack Obama, recently received a new presidential permit. However, due to court delays, construction start was pushed back to 2020. The cross-border facility will span 1,900km, stretching from Alberta, Canada, to Steele City, Nebraska in the US.
The 965.6km, $5 billion Atlantic Coast Pipeline that runs from West Virginia to North Carolina has also experienced a delay in construction due to permits crossing the Appalachian Trail.
Another large project to have hit a dead end is the $3.2 billion Access Northeast Pipeline. The project comprises the expansion of the Algonquin pipeline system in New England. Financing has been on hold since 2018 for Eversource, Enbridge and National Grid's facility.
As the EOs aim at a faster permitting process for large cross-border and interstate pipelines, another sub-sector that will likely be affected is the production and export of LNG.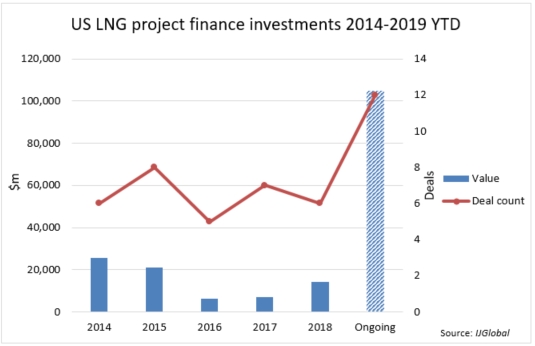 The LNG industry in the US is undergoing a resurgence after the first big push for project financing in 2014 and 2015, which led to the construction of the Corpus Christi LNG terminal in Texas, Sabine Pass in Louisiana and the Freeport LNG terminal in Texas. According to IJGlobal data, there are currently around $104 billion worth of projects waiting to reach financial close. The US is pushing to expand LNG capacity, which, if done swiftly enough, could make it the third largest exporter in the world, placing it after Australia and Qatar. Project developers, however, are facing one major hurdle – these projects require tremendous amounts of financing, and have to stick to tight deadlines if they want to take advantage of the market situation.
And some have managed to push ahead with projects. The massive $27 billion Driftwood LNG export facility and associated pipelines are awaiting a final investment decision in the latter half of 2019. Sponsor Tellurian is sourcing $7 billion of the costs through equity commitments from potential equity investment partners. The facility will have an initial 16.6 mtpa export capacity with the possibility for further expansion to 27 mtpa.
Energy Transfer Partners' estimated $10.9 billion Lake Charles LNG export facility has lined up JP Morgan to raise project debt. Construction however is expected no sooner than 2020. The facility will comprise three trains with a 15 mtpa export capacity.
Spectra Energy, the sponsor of the $8.5 billion Port Arthur LNG in Texas has signed a 25% equity investment agreement with a Saudi Aramco subsidiary. The facility's initial phase will comprise two liquefaction trains with a combined 13.5 mtpa capacity. It will have the potential to expand to eight trains with a combined 45 mtpa.
The US is on a double-purpose crusade – to improve internal midstream infrastructure and to position itself as a leading global LNG exporter. To that end, the newly signed EOs may speed up the process for developers and give confidence to new investors in the usually volatile oil and gas industry.