Greece tries to swap EU funds for PPPs
Last Updated 06 Dec 2018 13:55
In early October (2018), EU Commissioner for Regional Policy Corina Cretu visited Greece to inaugurate two major transport projects – the Tithorea-Domokos railway line and Thriassio Pedio Freight Complex.
The EU had provided funds totaling €1.2 billion ($1.4 billion) for the two projects. Furthermore, during Cretu's visit it was announced that another €121 million will be allocated towards a motorway connecting the Aktio peninsula to the Ionia highway.
In pre-crisis years, infrastructure projects in Greece were largely dependent on government spending through the Public Investment Program (PIP), whereas today more than ever Athens is reliant on EU funding. Despite recent efforts, in 2017 Greece ranked 24th among EU countries in terms of quality of infrastructure, according to the World Economic Forum (WEF) and the International Monetary Fund (IMF).
However, since the launch of the "New Start for Jobs and Growth in Greece" (NSJGG) plan in 2015, many projects that were put on hold during the crisis years have been rekindled. Indeed, NSJGG has been a major instrument for funnelling EU funds into Greek infrastructure.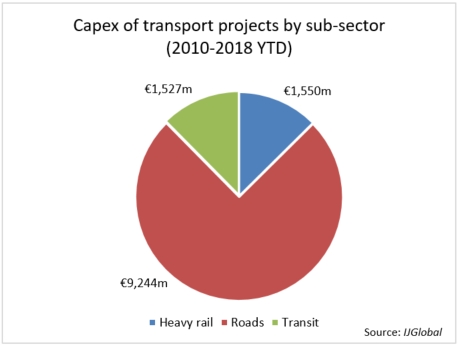 The lack of development has not been due to a lack of ambition. Since 2010, the country has launched projects with a total combined capex of over $12 billion. The most targeted sector, according to IJGlobal data, has been roads with €9.25 billion of projects attempted.
Though only a small portion of these projects have been fully realised to date, there is some momentum. Many important motorway projects that were shelved in 2015 were subsequently restarted and commissioned in H1 2017. These projects are:
As well as roads, the EU has also supported transit projects, such as the €730 million provided by the Cohesion Fund in June 2017 for the €1.57 billion Thessaloniki Metro. The project involves the construction of the 9.5km-line 1 and the 4.8km-line 2, expected to be fully operational in 2020. The metro in the seaside city is being developed by a Greek-Italian consortium consisting of Aegek, Impregilo, Ansaldo, Seli, Ansaldobreda.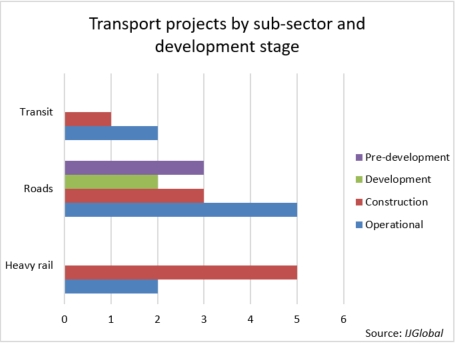 It comes as no surprise that the Greek road infrastructure sector has the biggest number of completed major projects (including tunnels and bridges), IJGlobal data shows that the road sector has seen the most investment to date, but focus is now shifting toward expanding the country's railway network and improving urban transit networks.
With state funds dried up, the government has tried to promote PPPs and attract more private funding.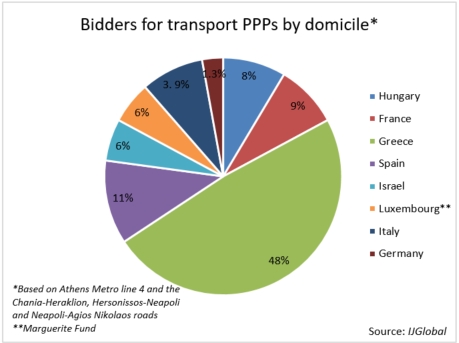 As shown by IJGlobal data, local companies are still dominating the bidding scene when it comes to infrastructure PPPs in Greece. However, four key deals procured as PPP have proved particularly attractive to other European companies.
Foreign players of the likes of Acciona (Spain), Vinci (France), Intertoll (Hungary), and Marguerite Fund (Luxembourg) expressed interest in the tenders for the three sections of Crete's Northern Highway launched this summer (2018).
The Hersonissos-Neapoli Northern Road Axis section and the Neapoli-Agios Nikolaos Northern Road Axis section are being procured together under a 30-year availability-based DBFMO contract. Meanwhile, the Chania-Heraklion Northern Road Axis section will be developed under 25-year concession contract. Additionally, in September three consortia featuring Italian, French and German co-participation were shortlisted for the first section of the new line 4 of Athens Metro.
Greece is also undertaking an ambitious and extensive privatisation programme of major assets such as Athens Airport, though not all the tenders have attracted the interest hoped. At the end of November, a tender for a concession to operate the Chios Marina received just one binding bid.
Clearly international investors still harbour some concerns over investing in Greece.