MENA PPP closes reach new heights
Last Updated 08 Feb 2017 18:01
Tags
Oil & Gas
Renewables
Power
Transport
Social & Defence
Water
Telecoms
Mining
MENA
A record total value of PPPs reached financial close in Middle East and North Africa (MENA) region during 2016. With a number of large scale projects in the pipeline, 2017 could surpass this total.
Over $4 billion of PPP deals closed last year across all sectors, according to IJGlobal data, up from $2.6 billion in 2015. The largest total value of deal closes prior to 2016 was the $3.56 billion of PPP deals closed in 2011.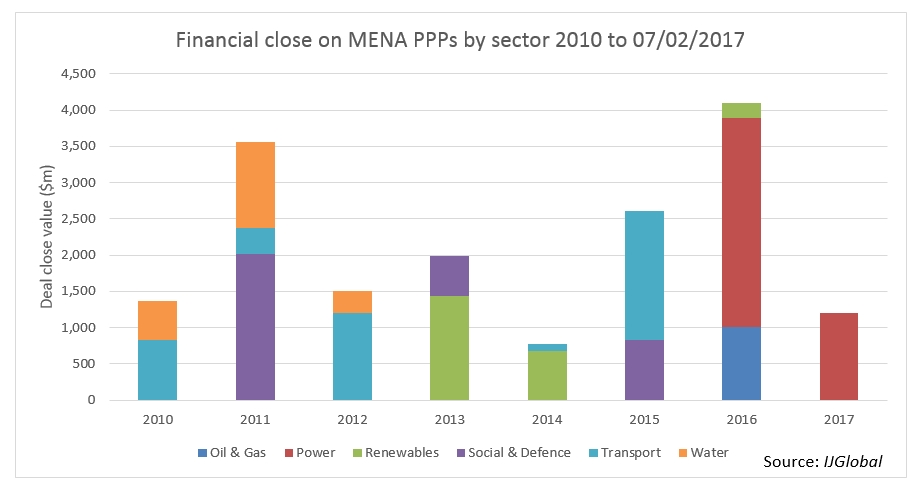 A number of MENA governments have been actively pursuing PPP procurement in recent years for a variety of reasons – perhaps the most prominent being the lower oil price putting pressure on government's balance sheets.
Among them, Oman is aiming to finalise its PPP law in early 2018; Tunisia last month prequalified advisers to assist in PPP procurement; and Qatar is also in the process of developing a PPP law.
Of the region's countries, Saudi Arabia and the United Arab Emirates have closed on the highest value of PPP deals, with $6.2 billion and $3.7 billion in total deal value reaching financial close since 2010.
This year has begun strongly, with French developer Engie reaching financial close on the $1.2 billion Fadhili combined heat and power (CHP) project in Saudi Arabia last month.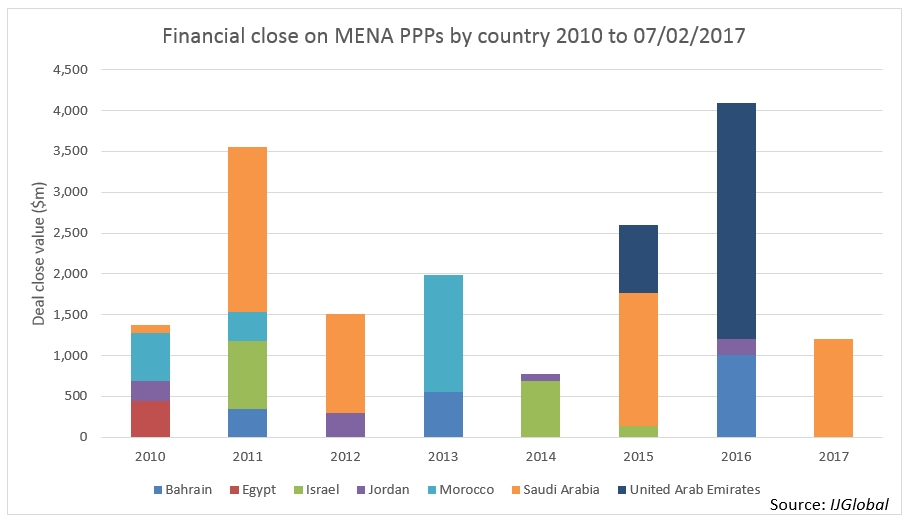 Pipeline projects to watch include the Sweihan solar photovoltaic (PV) plant in Abu Dhabi and the Rashid al Maktoum phase three PV project in Dubai.
Sweihan, under development by a Marubeni-led consortium, will have a total capacity of 1,177MW, IJGlobal revealed last week. Although a project cost has not yet been disclosed it should be comfortably above $1.2 billion.
The Rashid al Maktoum PV plant, with a planned capacity of 800MW, is a similarly chunky deal. Under development by Masdar, Abdul Latif Jameel and its subsidiary Fotowatio Renewable Ventures, the project has an expected total cost of $924 million.
Morocco has also been capably procuring a number of PPP projects in recent years and has a number of pipeline projects that could close in 2017. Among them; a power purchase agreement for the $225 million Noor trio of solar PV projects was signed by Acwa Power in November last year; and Enel is progressing 850MW of wind capacity across five wind parks. Enel's project could run to a total cost of around €1 billion ($1.07 billion).