Data Analysis: US renewables financing surges
Last Updated 22 Dec 2015 17:30
Tags
Renewables
North America
The total value and volume of closed transactions for renewables projects in North America hit record levels this year, with $47.5 billion closed across 153 deals in 2015 (as of 15 December), according to IJGlobal data.
The total value of closed renewables transaction this year is more than double the $17.2 billion total seen in 2010, when 69 deals reached financial close. The previous peak for renewables transactions in the region had been in 2012, when a total of $25.25 billion in deal value reached financial close.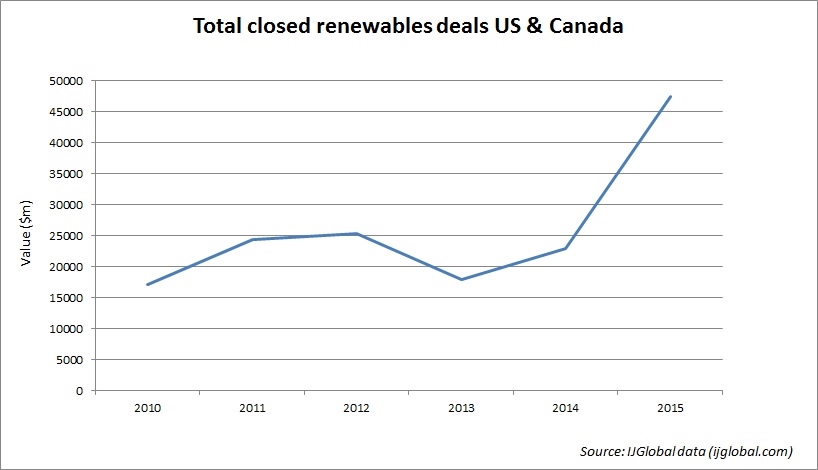 The bulk of renewables deals in 2015 were for greenfield onshore wind and photovoltaic (PV) solar projects, as investors took advantage of favourable interest rates and high liquidity levels.
The 66 PV deals and 54 onshore wind transactions represented more than two-thirds of all renewables deals to close during the year. There was only one offshore wind deal in 2015 - Deepwater Wind's 30MW Block Island Offshore Wind Farm - the first such to close in the US. Another offshore wind development, Cape Wind off the coast of Massachusetts, was derailed earlier this year due to legal challenges.
"The US has witnessed tremendous growth in residential solar," said David K. Burton, partner at Akin Gump in New York. "Back in 2010 the sector was not big but now we see such deals in every state be it New York, Florida or Texas..."
Burton adds that the falling prices of solar panels and wind turbines in recent years has boosted competition in the sector and encouraged project procurement across states. Development has also been spurred by extensions on federal tax-incentives, like the renewables production tax credit (PTC) in the US, and the adoption of green bond issuing mandates among financial institutions.
PTC, an inflation-adjusted per-kilowatt-hour (kWh) tax credit originally enacted in 1992, applies to renewable power projects including solar, wind, geothermal, biomass, hydroelectric, landfill gas and hydrokinetic energy.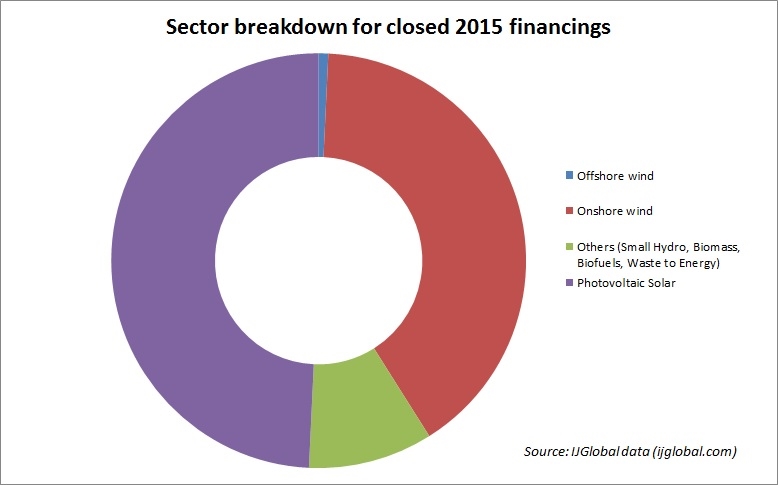 PTC has been renewed and expanded numerous times, most recently in December 2014 and then in March 2015. Under these extensions renewables developers are able to claim tax credits as long as they start construction before 1 January 2015 or if the developer has begun operating before 1 January 2017.
On 15 December 2015 US House of Representatives agreed to extend PTC yet again, in this instance for five years. Under this extension two separate measures have been drawn up; one covering credits for wind and solar projects and the other for geothermal, biomass, biogas, incremental hydro and ocean energy projects, tacked onto a tax extenders bill. On 18 December 2015, the US Congress agreed five-year extensions for wind and energy tax credits, as well as agreeing a shorter extension for other renewable energy projects.
The latest extension is expected to continue to bolster activity in the renewables sector over the next few years, Burton said.