Canadian PPP efficiency
Last Updated 12 Jul 2018 13:33
Tags
Transport
Social & Defence
Water
Telecoms
North America
Canada has long been one of the most attractive markets for private investment in public infrastructure. Around 20 years of works procured under the PPP model has established the country as a leader in infrastructure procurement. According to IJGlobal data, nearly $48 billion primary financings for PPPs have been closed in the country over the last 10-years.
The success of the PPP model in Canada is built on reliable procurement agencies. These institutions have an impressive track record, and show no signs of slowing down. Late last year (2017), Infrastructure Ontario (IO) announced its PPP pipeline for 2018, with a capex value of C$15.8 billion ($12.4 billion). Meanwhile, Infrastructure Canada has outlined a plan for bilateral agreements with provinces to provide roughly $33 billion of funding for the next 10 years.
As shown by IJGlobal data, the financial close horizon in the Canadian PPP market is the shortest for social infrastructure projects with an average of 26 months, followed by transport with an average of just above 30 months.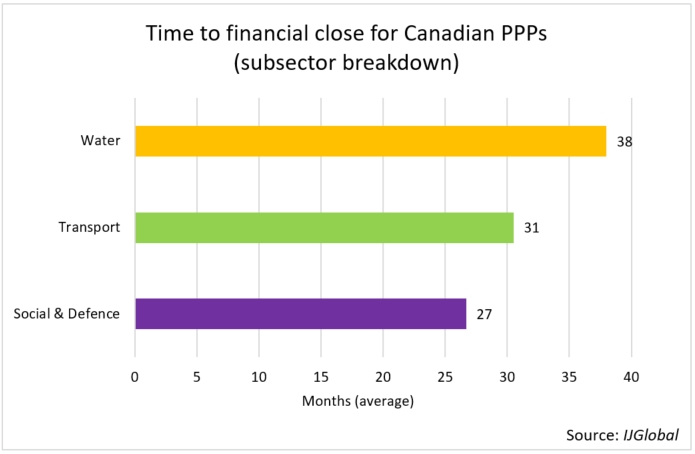 IJGlobal data shows that for the majority of the completed PPP deals in the last 12 years, it took between one and three years to reach financial close since initial announcement. Furthermore, PPPs that close between their third and fourth year on the market are more costly, with an average of $561 million per transaction compared to an average of $259 million and $228 million for those closing in 12 months and in 24 months, respectively. The second highest valued transactions on average are those closing between two and three years with $441 million, and the slowest to close deals have an average of $412 million.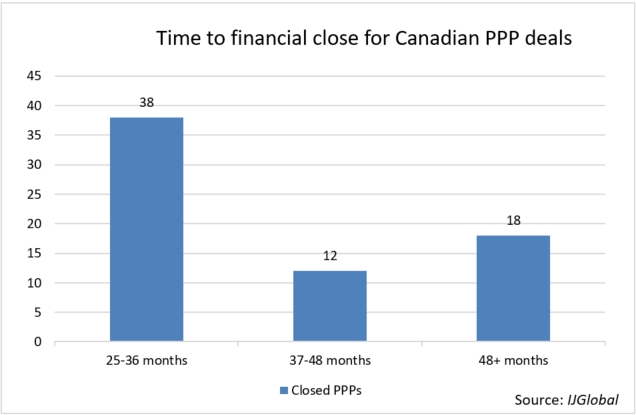 When comparing the average number of months it takes for Canadian PPP transactions and US PPP transactions to achieve financial close, it is clear that the time periods are significantly shorter for the former.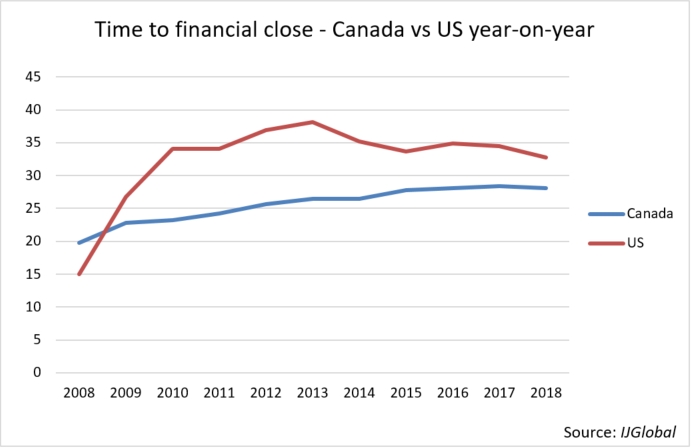 The gap has been closing in recent years, however, and the US is keen to improve its efficiency further.
With amendments to the legal and regulatory environment and the federal government keen to push ahead with a much-touted $1.5 trillion, 10-year infrastructure plan, the US is hoping to crowd in private investors for a significantly wider area of sectors and to shorten the time needed to close transactions.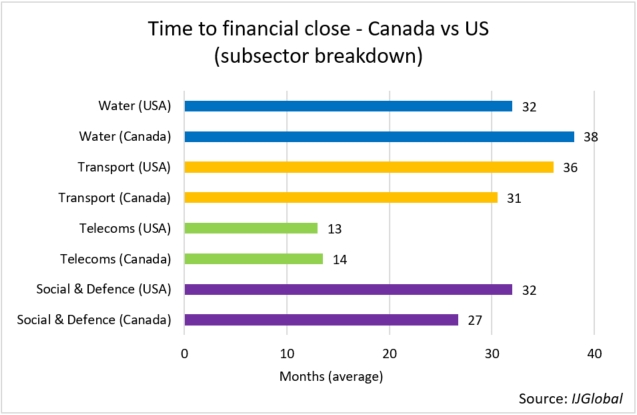 The US is newer to using the model and has generally relied on private funding mostly for road infrastructure. According to IJGlobal data, while Canada has closed on 101 primary financing PPP deals for social infrastructure (70 in Ontario alone), the US has managed just 13.
There is a substantial difference between the two countries' use of PPPs and their respective legal and regulatory landscapes. Both Colorado's I-70 East Extension (66 months to financial close) and Maryland's Purple Line (99 months to financial close) suffered delays due to environmental litigation and lengthy review processes. In comparison, among Canada's more recent projects the Finch West LRT took only 32 months to reach financial close.
The successful use of the PPP model over long period has made the Canadian infrastructure project development and funding process lean and consistent. On the face of it, the national government's 'Investing in Canada' plan, which includes the new Canada Infrastructure Bank making $35 billion in funding available for projects over 10 years, looks like a solution seeking a problem given the success seen in the market to date.