Data Analysis: North American midstream
Last Updated 29 Jun 2016 14:27
Tags
Oil & Gas
North America
The last three quarters have witnessed an uptick in M&A activity in the North American midstream corporate sector as asset owners have looked to raise money through divestments. But the sector has been slow to respond, according to IJGlobal data.
US crude prices began to fall steeply in the summer of 2014, but it is only since the second quarter of 2015 that M&A transactions have started to rise. The chart below (which excludes certain non-conforming entries) records three midstream corporate M&A transactions announced in the eight months to the end of February 2015, compared to 12 transactions for the same period one year on.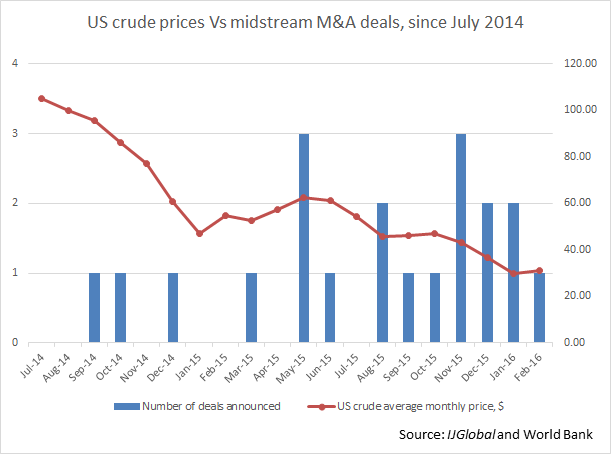 The pressure to divest assets has in part come from these firms losing access to equity markets to raise capital as a result of falling share prices. However, the data to date does not bear out a loss of confidence in the ownership model of midstream companies.
Of the 13 M&A deals announced recently, only three involve unlisted investors. They are ArcLight Capital Partners' acquisition of the general partner of TransMontaigne Partners (but not the limited partnership), I Squared's purchase of the San Juan Basin gathering system, and Brookfield's co-acquisition with Kinder Morgan of the distressed National Gas Pipeline of America. Indeed, three of the buyers in these deals were master limited partnerships.
But things could be changing. The past three months have seen a flurry of announcements from fund managers such as Stonepeak Infrastructure Partners and I Squared Capital seeking to fill the gap left by the bank and bond markets by helping midstream owners recycle capital. ArcLight has been steaming ahead, announcing its fourth midstream deal in twelve months with TransMontaigne in January.
Other fund managers show signs of catching up with ArcLight. When they do, a key question will be if MLP unit-holders decide to exit the space and let some companies go private. If CentrePoint Energy decides to sell its 50% stake in Enable Midstream Partners, as it announced was under consideration in February, and the buyer makes an offer for the rest of the company, it could be a turning point.