IJGlobal Magazine – the ESG Awards issue
Last Updated 29 Oct 2021 09:21
Tags
Renewables
Transport
Social & Defence
Water
Telecoms
Europe
Welcome to the autumn issue of the IJGlobal Magazine – virtual once again thanks to the Covid-19 pandemic – that is most noteworthy for including features on all the winners from the inaugural ESG Awards.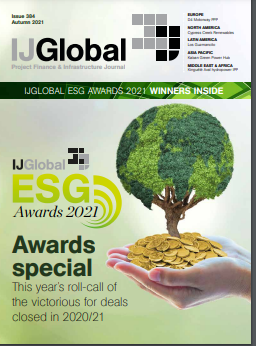 The latest issue of the magazine is dominated by the ESG Awards which we were delighted to host on 21 October in the BAFTA headquarters on Piccadilly, central London.
The winners have already been announced online, but in this issue we have expanded on the stories with more judges' comments and greater detail on why the company or transaction was chosen for plaudits by the independent panel of judges.
To download the magazine, CLICK HERE…
This issue also includes features on the individual award winners – a lifetime achievement award, one outstanding contribution and 2 rising stars.
We hope you enjoy the latest issue of the IJGlobal Magazine.