Winds of Change – technological constants
Last Updated 02 Oct 2020 09:03
The energy sector in recent years has witnessed more innovation than at any time since the Industrial Revolution. Countless technological enhancements have been made to increase output and bring niche sectors up to utility scale, progressively moving power generation away from fossil fuels.
As the market shifts away from reliance on fossil fuels with lenders and investors increasingly opting out of "dirty" forms of energy production as an ESG requirement, the self-starting evolution of alternative energy is receiving support from all sides.
Renewable energy – a growing percentage of which is produced by offshore wind – is in many markets rapidly replacing coal, oil and (increasingly) gas. In line with this trend, the industry is moving to upend the energy economy with new technologies to replace or enhance old ones.
With most of the conversation centred on offshore wind, it is pretty much talked out and already working at maximum efficiency… in the right conditions. Deeper water, intermittent wind and wake loss effects are of the drivers for the investment in technology.
Water depth poses a challenge in unlocking markets where offshore wind could be a viable energy producer. However, with the maturity of offshore wind, the period of apprehension before large-scale floating turbine investment was remarkably short.
However, the relatively high capital expenditures for deep-water wind arises from substructure and installation expenses – amounting to 35% of total construction costs. As a result, developers and researchers are modelling anchors and substructures around those found in nature to cheapen costs through efficiency.
A team at Purdue is working to 3D print anchors with concrete – as opposed to the more typical steel option – in multiple thin layers stacked one on top of another similar to that found on the shells of shrimp. The new structure and material will make the structure resilient to cracking as it moves with the tides of the sea.
Other projects like SpiderFLOAT created by America's National Renewable Energy Laboratory is designing modular components shaped like spider legs to reduce the costs of deepwater substructures by limiting materials and simplifying routine O&M costs.
Another large growth market in floating technology is solar – the less sexy, but equally practical technology which has the more alluring feature that it can be located on any significant body of water.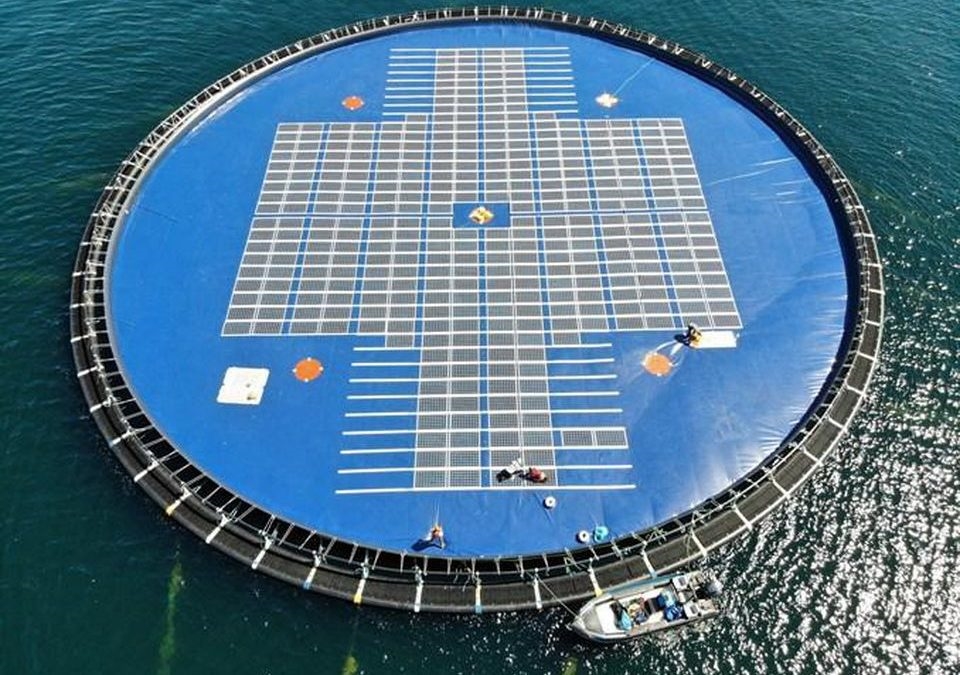 New technologies, like those developed by Ocean Sun (Ocean Sun floating solar lilies pictured right), have thought to place floating solar panels on top dams and in slow moving rivers, lakes, coastal seawater, and manmade reservoirs using technology based on the structure of water lilies.
As opposed to the solar PV panels made of polyethylene plastic – commonly used for conventional solar systems – Ocean Sun's floating units are made of a polymer membrane, which are thin, lightweight, and buoyant enough to stay atop water surfaces.
The polymer membrane material is also hydro-elastic in nature and 1mm thick, allowing it to move with the waves, rather than resisting them.
However, biomimicking only goes so far. Like pigeons excelling at living in an urban environment, innovations are growing around the energy caused by human movement. Shell is installing turbines next to motorways utilising wind draft force from cars moving at high speed, collecting the air pushed away as they travel.
Opposing this and far more concealed in nature, the first shaft hydropower plant has gone on stream in Germany this month, installed inside a river bed.
Developed at the Technical University of Munich, the new plant does not need to divert the course of the river but instead, is dug into the upstream of a weir. The water flows into a shaft with a turbine and generator, drives the turbine, and is then returned to the river under the weir, seamlessly integrated into the river's natural environment.
Meanwhile out at sea, renewable energy specialists are as always keen to get marine power working at large scale efficiency.
In the first IJUnplugged webinar with Chris Milne, chief financial officer of Orbital Marine Power, IJGlobal discussed the Scottish company's discrete 2MW turbine, which can be placed under water, to generate energy from the ebbs and flows of the tide. One of its greatest strengths is that the submergible turbines can be raised above sea level for routine maintenance and repairs.
Meanwhile in the world of hydrogen, large-scale projects are being financed and built with government and private finance support. Even with significant electrolysers in project pipelines finally being realised, this has not slowed innovation in its scale and its power.
GHD is attempting to create a household hydrogen energy storage system – LAVO – to collect and purify rainwater, and use energy from household solar panels to produce a 60kWh battery, allowing self-sustaining household energy, independent from the grid.
In other cases, firms are incorporating hydrogen into construction infrastructure, long-travel trucks, vans and cars as well as in the latest Microsoft datacentres.
There has been an upsurge in pressure from the public to realise hydrogen fuel cells in cars and buses within cities, but electric vehicles are winning this battle even though they take considerably longer to charge… though significant technology improvements are being driven on this front.
Some researchers are looking to charge cars wirelessly. A team at Stanford University is building a system capable of efficiently transferring power instantly to a moving vehicle within arm's length using magnetic coils – expecting a ready product by 2022.
While discussing renewables, it is important to note that on the other end of the spectrum, technological advancements are still being deployed to increase the efficiency of fossil fuels. Flylogix and Cambridge Consultants, part of the Capgemini Group, are now using local drone piloting from centrally-controlled operations to increase the resilience of their services to offshore oil and gas installations and lower costs.
Innovation has built a head of steam in recent years and the momentum behind these developments continues to impact the market on a seemingly daily basis, leveraging greater efficiency and lower costs. But with the race to fulfil ESG requirements and get renewable energy assets operational and competitive, farfetched technologies are now being taken seriously with large developers and financiers ready to deploy capital.