European renewables attract wide range of investors
Last Updated 28 May 2019 08:30
European renewable energy assets remain popular among fund managers and their investors. Near the end of last month (April 2019), The Renewables Infrastructure Group (TRIG) raised £302 million ($399 million) in a heavily oversubscribed first tranche of its share issuance programme by offering 256 million shares at a price of £1.14 per share.
Despite having a relatively narrow target – renewables predominantly in the UK – the fund was massively popular. IJGlobal reported in March 2019 that TRIG was planning to issue a total of 450 million new ordinary shares and/or c shares – with an initial tranche offering 150 million shares at a price of £1.14 per share, the oversubscribing, however prompted TRIG to increase the number of available shares in the initial tranche.
The issue was 3x oversubscribed, prompting TRIG to increase the number of available shares to 256 million and put some investors on hold until the next share issue.
In France, Omnes Capital is preparing for a swift fundraise on their fourth European renewables fund – expecting to raise €500 million in the few months between Q3 2019 and Q1 2020. The announcement follows the reveal of Capenergie 2's 15% net returns. On a much larger scale, BlackRock announced in March that they are in a pre-marketing phase of a $2.65 billion fund, 30% of which are to be deployed in Europe.
The sector is attractive not only because these investments inherently possess a lower risk – partly explained by the relatively low cost of their implementation, low maintenance costs post-construction and often long-term PPAs with either public or private entities. The technology employed by renewables is also rapidly becoming cheaper – in some countries energy from sustainable sources is already less expensive than conventional energy. Even the rethinking or straight-forward slashing of feed-in tariffs, as is the case in France, did not manage to diminish the appeal of European renewables.
Public institutions are not shying away from renewables either. According to IJInvestor's database, the EIB and PKAE Pension Fund have invested in SUSI Renewable Energy Fund II – a Europe-oriented investment vehicle that held final close at €380 million in October 2016, surpassing its target of €300 million. It has been active in Denmark – a veteran country when it comes to green energy.

The result of Europe's push for sustainability is visible. IJGlobal data shows that out of all global regions, Europe is home to the best part of operational (57%) and in-development (33%) renewable assets.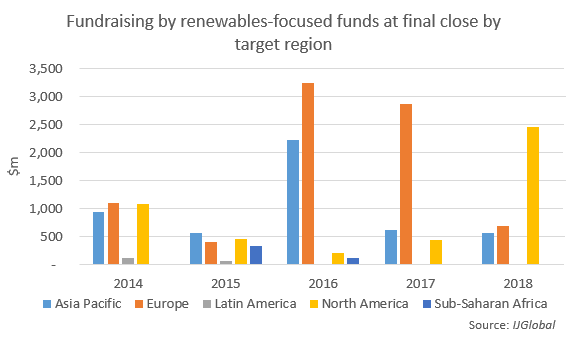 When it comes to region-exclusive infrastructure fundraising, the European market is right for the investors' appetite. IJInvestor data shows that in the last five years 45% of nearly $18.5 billion in capital raised by funds targeting renewables projects has gone to funds targeting Europe. On average, Europe-centric funds reach 90% of their target size at final closing, outperformed only by those targeting Asia Pacific (96%). All in all, Europe-bound funds are proving to be very profitable for investors. Serge Savasta, managing partner at Omnes, recently commented on their maturing Capenergie 2 that "the investors have already obtained 2x on their investments even though we have two portfolio companies of €1-2 million still to be sold."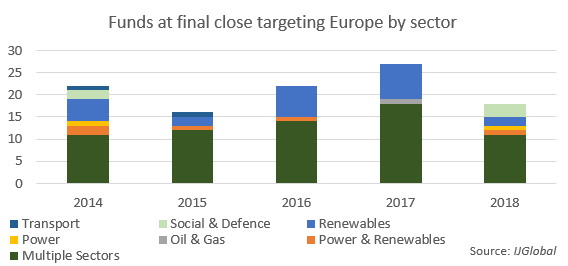 IJGlobal data additionally demonstrates that 23% of funds targeting Europe that had a final close in the last five years target renewables exclusively. The figure goes up to 71%, if only sector-specific funds are considered, excluding those with a multi-sector mandate.
The prospects for 2019 and beyond for renewables are strong. Europe is at the forefront with 40% of Europe-dedicated funds currently in fundraising focusing exclusively on renewables. The figure doubles when multi-sector funds are excluded. Overall, almost all of the funds targeting the European energy sector are including renewables in their mandate.