IJInvestors Funds & Investors Report – H1 2018
Last Updated 25 Oct 2018 10:23
Tags
Oil & Gas
Renewables
Power
Transport
Social & Defence
Water
Telecoms
Mining
Latin America
IJGlobal is today (31 July) publishing its second issue of the IJInvestors Funds & Investors Report – this one reporting on fundraising activity by global infrastructure funds in the first half of 2018.
IJInvest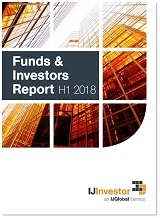 or has logged $44.3 billion of final closes in H1 2018 across 31 funds, a considerable uptick on H2 2017 which amounted to $25.7 billion, and almost matching the corresponding half last year (H1 2017) when $44.6 billion was raised.
This latest research exercise identifies $21.7 billion raised by 14 funds in Q2 in equity and debt to target infrastructure and energy around the world; following on from $22.5 billion across 17 funds in Q1.
This is fairly healthy performance for the sector, showing continued appetite for the asset class as impetus is maintained, but considerably down on the spike halves when $52 billion and $50.6 billion was raised – in H2 2016 and H1 2015, respectively.
Taking a measured view of the market, the average amount raised – at final close – in each half from the start of 2015 to the mid-point of 2018 comes in at $39.6 billion.
To access IJInvestors Funds & Investors Report – H1 2018 click the embedded image, or click here…