Estonia runs before the wind
Last Updated 18 Jul 2018 12:25
The Estonian Government in October 2017 confirmed its plans to grow the country's renewable energy capacity by approving the Estonian Energy Development Plan until 2030 (ENMAK). The scheme targets 50% of Estonia's domestic electricity consumption and 80% of its heat generation coming from renewable energy by 2030.
IJGlobal data shows that the bulk of Estonia's renewable energy is currently generated by onshore wind farms, followed by waste-to-energy and biomass power plants, for a total installed capacity of around 303MW.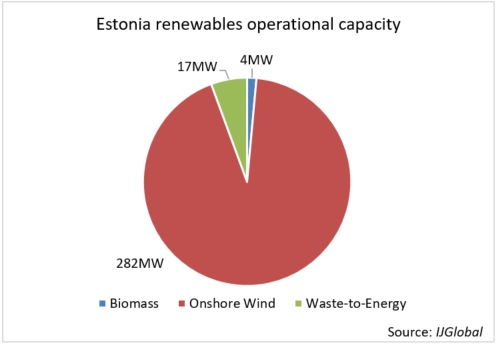 According to reports by Estonian transmission system operator Elering, renewables met only 13.2% of the country's electricity demand in the first trimester of 2018.
So with modest installed renewable energy capacity and a looming interim target for 17.6% of the country's electricity demand being met by electricity generated from renewable energy sources by 2020, Estonia will need to make a big push in the renewables space to stay on track for 2030.
And achieving these ambitious goals is likely to involve a massive deployment of wind energy.
Wind project pipeline
And the Baltic country can count on an impressive pipeline of wind projects – onshore and offshore – in the early stages of development, to advance its renewable energy agenda. IJGlobal data suggests that by 2030, Estonia's pipeline of projects will have the potential to reach over 4GW of capacity.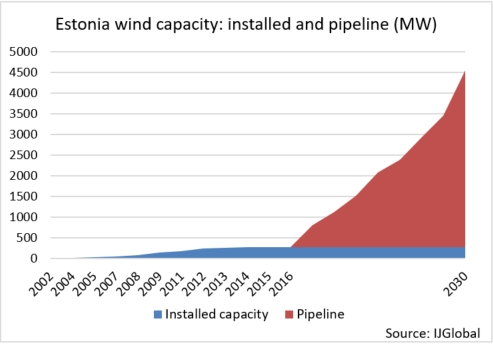 One notable wind project under construction is the 100MW Aidu wind farm near Vaivara in north east Estonia. Local developer Eleon started building the planned 30-turbine onshore wind farm in March 2016. UniCredit and Krediidipank are financing the €165 million ($193 million) project which is slated for completion in 2020 with a goal of becoming the biggest wind farm not just in Estonia, but in the Baltic region.
Aidu is advancing well ahead of another big Estonian onshore project. Eesti Energia's Tootsi wind farm in south west Estonia is due to be equipped with 52 wind turbines and boast a capacity of around 140MW – if brought to completion. However, the auction for the land allocated to the project has been contested in court by competing private companies – including Eleon – stalling state-owned Eesti Energia's plans to go ahead with construction.
Offshore wind ambitions
Meanwhile, Estonia also has its sight set on offshore wind developments. IJGlobal data shows that Estonia's project pipeline is actually dominated by offshore projects in terms of capacity.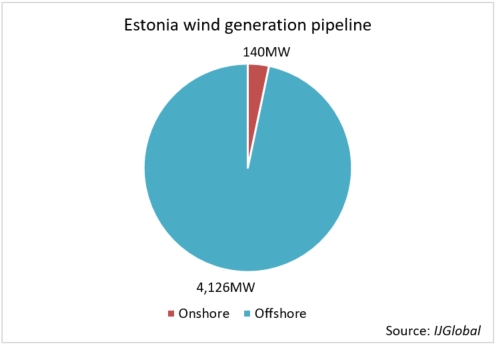 Seven offshore wind projects in the Estonian pipeline are expected to provide the majority of the country's renewable energy:
Among these important projects is the impressive Baltic Blue offshore cluster, which will involve four projects and account for 1,666MW of capacity altogether. Estonia has mulled on the massive development since the early 2010s, but developer Baltic Blue Energy has yet to start construction.
Meanwhile, the 900MW Hiiumaa offshore wind farm, developed by Nelja Energia, is a step closer to being realised with construction scheduled for H2 2018.
The prospect of over 4GW of offshore wind projects to be developed in the mid- to long-term, Estonia is sure to attract both private funding and major equipment suppliers – such as Germany's Siemens which will supply turbines to the 600MW Saare offshore wind project.
Local listings
Estonia has a relatively high number of local developers, and the market appears to have reached a certain level of maturity, with company takeovers and listings on the table.
The recently announced acquisition of the country's largest private wind developer – Nelja Energia – by government-owned Eesti Energia's subsidiary Enefit Green for €289 million ($337.4 million) suggests an interest on the part of the government to be a more active player in the wind sector. The deal is still pending approval from competition authorities.
Meanwhile, the listing of 49% of the share capital of Enefit Green has been on the radar for some time, potentially taking place in H1 2019.
And with interests in wind developments also in neighbouring countries through Nelja Energia's 55MW Silale II wind farm in Lithuania and 50MW Dundaga wind farm in Lativa, Estonia seems to be in a good position to become a leader in wind energy in the Baltic region.