Saudi in the race for renewables
Last Updated 29 Nov 2016 17:46
Saudi Arabia's state oil company Saudi Aramco recently confirmed that it will launch an IPO and subsequently reveal one of the biggest secrets in the energy world; the quantity of Saudi Arabia's oil reserves.
As one of the biggest oil producing nations in the world, Saudi Arabia's economy is reliant on its oil revenues. But falling oil prices, the growth of the US gas export market and the lifting of sanctions against Iran threatens to jeopardise Saudi's energy dominance.
The county produced 572 metric tons of crude oil in 2015, according to data from the International Energy Agency and the Kingdom claims to have 260 billion barrels of oil in reserves.
In its aim to diversify its economy away from crude Saudi Arabia has turned its attention to renewable energy. And while development has been non-existent to date, the country has now set out targets for renewable generation to 2032. Perhaps an indication that its reserves are not as plentiful as they would have the world believe.
Saudi Arabia, by 2032, aims to have around 30% of its fuel mix from renewable sources. The majority of this would come from concentrated solar power (25GW).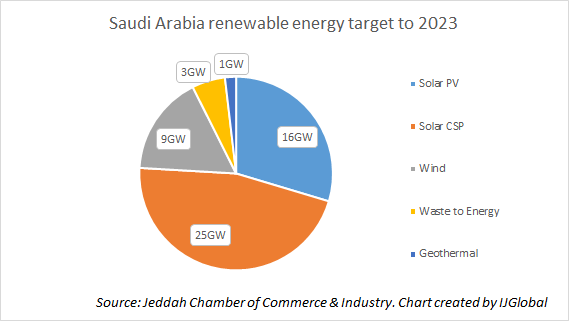 However Saudi trails behind its Middle Eastern neighbours when it comes to renewables generation. Morocco has been at the forefront of thermal solar power development in the region, closing three CSP deals, according to data from IJGlobal. Abu Dhabi was the first to close a CSP project, and incidentally the first renewables deal in the region in 2014; the 100MW Shams 1 Thermal Solar project.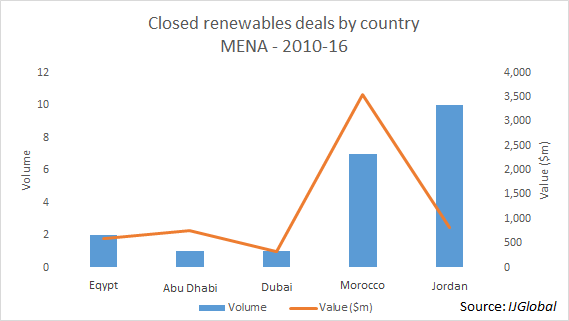 Meanwhile Dubai has had a long-term plan to develop renewables, alongside its coal fired power pipeline. Jordan has been the most active country in the region, according to IJGlobal data, closing 10 renewable energy deals since 2010. The majority of the deals have been in the solar PV sector. Kuwait, Egypt and Oman are also understood to be considering new programmes for renewables development.
There is a drive for energy independence in the Middle East, and a need to diversify economies of the region away from crude oil. The question is can Saudi Arabia catch up with its Middle Eastern neighbours.